On January 26, the Aachen Graphene & 2D Materials center will host a seminar by Dr. Ellie Galanis and Jemma Allan, who will share some of the insights beyond the commercially available graphene Hall sensor produced by Paragraf.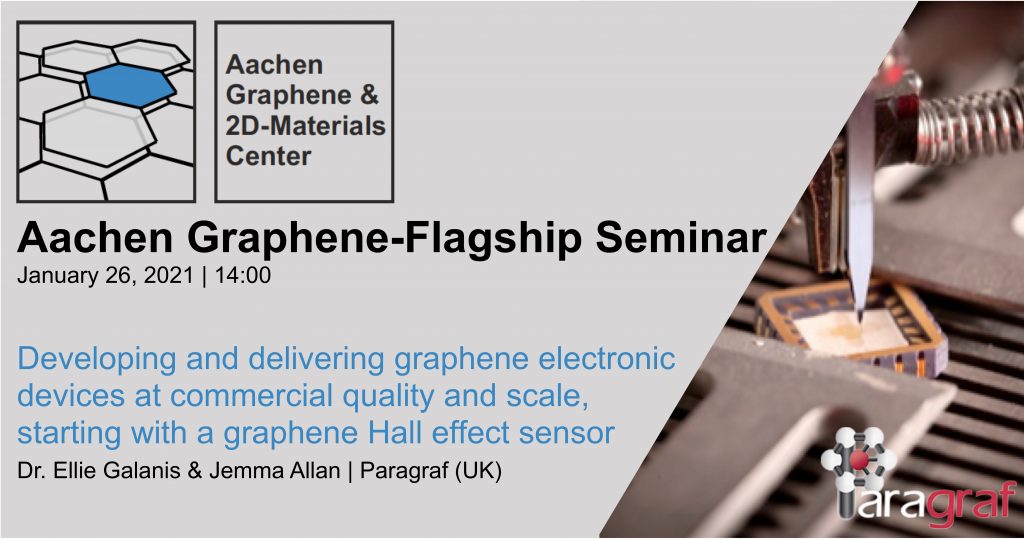 Paragraf is a company based in Cambridge (UK), which spin-out from the Department of Materials Science at Cambridge University. Paragraf has perfected a proprietary process for depositing graphene directly onto silicon, silicon-carbide, sapphire, and other semiconductor-compatible substrates. This technology is scalable, and compatible with existing electronic device manufacturing processes.
The first device developed and commercialized by Paragraf is a graphene Hall-effect sensor for measuring magnetic fields in demanding environments. Galanis and Allan are respectively the product owner of the graphene Hall sensor and the lead of the graphene production and device manufacture at Paragraf. In their seminar, they will share some of the insights behind the process of taking the graphene Hall sensor from research to production. More information about the seminar can be fund here.