On February 2022, AMO GmbH and the 2D-Experimental Pilot Line have launched a call for their first multi-project wafer run. Developers of graphene-based sensors now have a unique chance to test their device concept on a large scale at moderate cost.
Graphene has a number of intrinsic properties that make it an ideal platform for developing ultra-sensitive sensor devices. In the past ten years, there has been a flourishing of scientific publications that demonstrate the outstanding performance of graphene-based sensors at the single-device level. What is still missing to turn these scientific advances into real applications is a reliable fabrication process for high-volume production. And this is the challenge taken up by the 2D-Experimental Pilot Line (2D-EPL).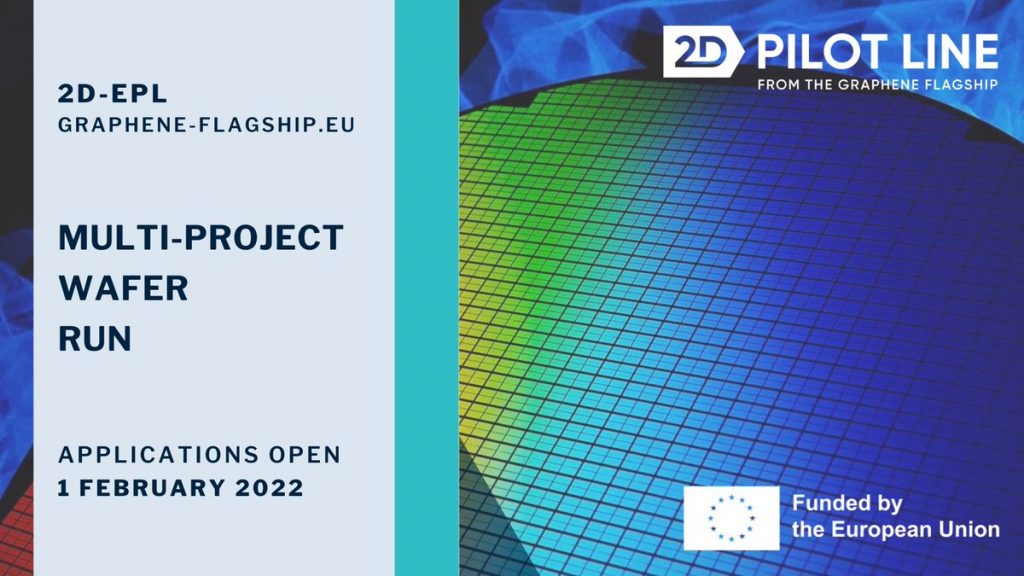 The 2D-EPL is a €20 million project funded by the European Commission, with the goal of demonstrating how to manufacture and scale up the production of devices based on graphene and other two-dimensional materials, in a way that is interesting for market applications. To reach this goal, the 2D-EPL brings together key European players along the whole value chain, from tool manufacturers, to material providers, and semiconductor fabrication lines: Aixtron Ltd. and Oxford Instruments (UK), imec (Belgium), AMO GmbH, iHP GmbH, Micro Resist Technology GmbH, Aixtron SE and Suss Microtech (Germany), Graphenea (Spain), and VTT (Finland).
Cornerstone activities of 2D-EPL are five multi-project wafer runs. In each of these runs, different universities, research institutes and companies will have the possibility of having their devices custom-processed on dies of the wafer, based on a shared-cost model between users and service providers. The first multi-project wafer run will be processed in AMO GmbH's cleanroom and dedicated to sensor applications.
"This is a great opportunity for developers to test their device concept on a large scale at an accessible cost," says Dr. Gordon Rinke, project leader of 2D-EPL at AMO. "It's a chance for them to test a large production volume, to collect large volumes of data, and test issues such as reproducibility and yield. And for us, as partners of the 2D-EPL project, a chance to demonstrate the stability of our process and to better understand the needs of potential future costumers."
The first wafer run at AMO exploits the baseline process developed by the company for fabricating graphene field-effect transistors on 200 mm silicon wafers. Users can book dies on the wafer and have them custom-processed within a set of specifications. Customization options include the possibility of having a local or global back-gate, as well as encapsulation – with or without a graphene-area opening. In addition to manufacturing, the run also the option of Raman and electrical characterization of the as-built devices.
The call for participating in the first multi-project wafer run opened on February 1 and will close on June 30, 2022. AMO will offer a library of device designs that can be used as the basis for modification, and collaborate with successful applicants on the design of the dies under non-disclosure agreement. "The call officially ends in June, but we'll get in contact with people interested in the wafer run on a rolling basis", says Rinke. "The first enquiry is in any case non-binding and will serve both parts to see whether there is a mutual benefit."
In total, the 2D-EPL will offer five multi-project wafer runs through 2024 – two processed by AMO (runs 1 and 3), two at VTT (runs 2 and 4) and one by imec (run 5). "All runs address a different target application and a different level of complexity of device and of process technology," explains Prof. Max Lemme, scientific director of AMO GmbH and member of the steering committee of 2D-EPL. "The demands on material quality for graphene-based sensors are somewhat less stringent than for other electronic devices, and there are good opportunities for market penetration in the short- to mid-term. This is why we are starting with a run dedicated to graphene-based sensors. But we'll also use each run to improve the processes and the workflows for the next one. Our final goal is to demonstrate that it is possible to produce a wide range of devices based on two-dimensional materials in a way that is interesting for industry, and each multi-project wafer run wants to set a milestone in that direction."
The 2D-EPL project is funded by the European Union's Horizon 2020 research and innovation programme under grant agreement No 952792.
More information:
Contact
Dr. Gordon Rinke
Project Leader 2D-EPL at AMO
Deputy Head of Graphene Electronics Group
rinke@amo.de